Peegirl Paints In Extremes

"Tricking my brain into believing I'm someone else can be very triggering; It's like hijacking the right side of my brain."

---

Words by Tierney Finster
Photos by Jess Calleiro

Taylor Marie Prendergast is Peegirl (@peegirl3) – a painter and performance artist whose practice is only urological in name.

One Twitter user put it plainly: "I wanna know who pee girl is," she begged the electronic musician SOPHIE. Over the course of the last year, Peegirl joined Sophie onstage in New York, Los Angeles and the Coachella Valley to perform their collaboration "Take Me To Dubai."

Peegirl says she's a million different people, only some of whom adore entertaining throngs of concert goers. Her art practice is as multidimensional as her personality.

"I'm the Jim Carrey of this generation," she writes me. Peegirl has the independent fortitude of someone who never breaks character, even though she totally breaks character all the time in order to play new ones.

Roaming her studio in downtown Los Angeles, Peegirl Juuls and brushes her bright, blonde hair as we wait anticipate the arrival of our photographer Jess Calleiro. We are surrounded by a bunch of paintings starring dogs, her latest series that is still in progress.

She works on all of them at once because that makes her feel more certain they work well together as a set. Every now and then, she posts her paintings on Instagram. Most recently she shared "Opium," a color field of lavender acrylic accentuated with glossy lime and filled with wispy charcoal flowers.

Creating contrast and playing with its extremes, visually or otherwise, is central to Peegirl's being.

Peegirl, or Taylor, is a painter so grounded in the routine of her craft as a painter and drawer that she feels completely liberated to free fall into whatever other creative invitations come her way. That's how she wound up making a song with Sophie. That's how she wound up in David LaChappelle's legendary Hollywood studio, where she not only posed for images with the photographer but also met her boyfriend, a fellow painter who was also working there.

Peegirl's unique approach to being hot on Instagram reveals her sick wit and maniacal sense of humor. Take her sponsored posts for I Am Gia, a clothing brand built on the backs of Instagram influencers like herself. In one, she advertises the new I Am Gia top while ball-gagged and restrained with sunglasses on top of her head (caption: "You can buy top at @Iamgia).

In another video, thanking the brand for her free clothing, she struts around in a new terry cloth two-piece set and lays her own voiceover work atop it, mimicking Britney Spears' solemn-babydoll tone as she says "Hi Instagram, I just got a beautiful, beautiful box from I Am Gia that I thought I'd share with you guys."

Taylor's performances are hilarious and her paintings are chilling for the same exact reason - her commitment to obliterating the notion of a single self.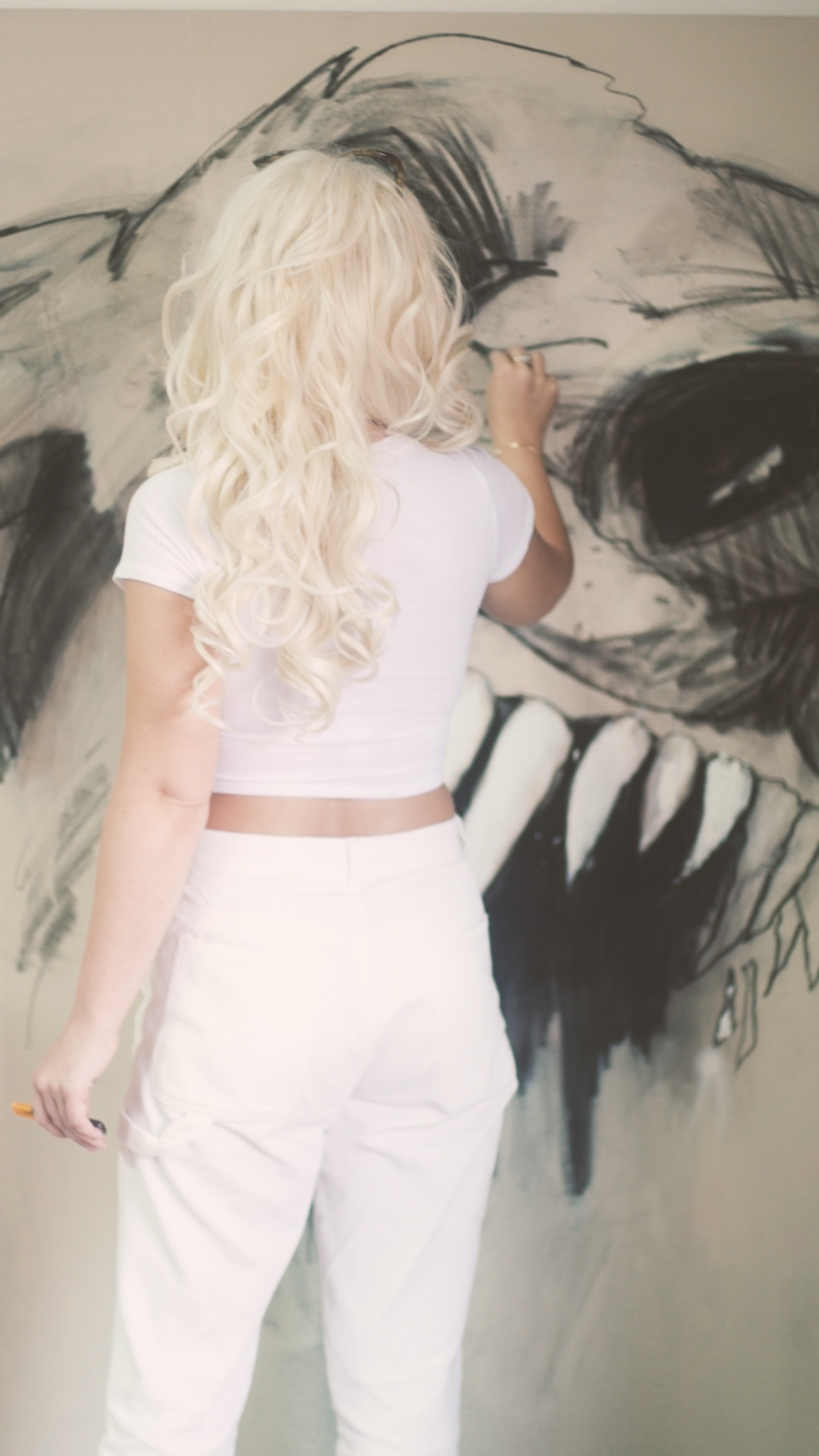 THANK YOU FOR BEING A TRASH ANGEL. WILL YOU TELL US ABOUT A MOMENT Of CREATIVE TRANSCENDENCE THAT MADE YOU FEEL LIKE YOU "EARNED YOUR HALO?"

I've had lots of reassuring moments, but I think the halo turns on gradually.

WHAT'S ONE WORK TO DESCRIBE YOURSELF AS A CREATOR?

Hysterical.

WHAT'S THE BIGGEST CREATIVE RISK YOU'VE TAKEN LATELY?

Channeling Nicholas Cage.


WHO ARE YOUR FAVORITE COLLABORATORS?

Recently I have been mentally collaborating with Norma Desmond, Melissa McCarthy, The Joker, Jack Nicholson, Andy Kaufman, Marina Abramovic, Bi Ling, and Charlize Theron (Monster). I can get a little in my head while painting and channeling these characters in the studio has been helpful lightening the load. If I pretend that I'm one of them while creating I have less responsibly with the outcome. Someone else to blame or applaud.
WHAT DO YOU LOVE THE MOST ABOUT YOUR LIFE RIGHT NOW?

The considerable amount of giggling.
WHAT'S YOUR FAVORITE CONDIMENT?

Mayonnaise.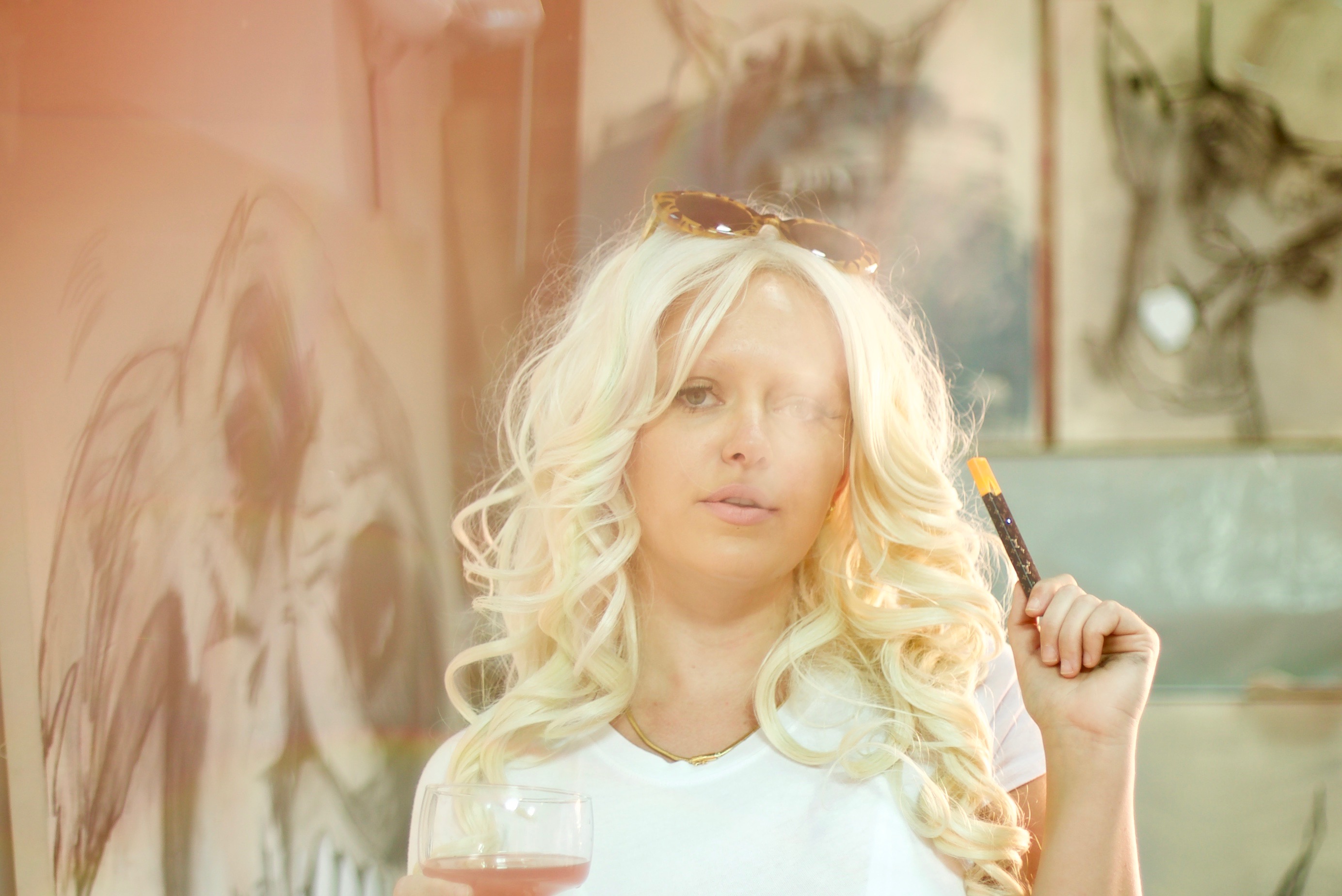 HOW DO MASKS FIT INTO YOUR CREATIVE PRACTICE?

It's character building, in and out of the studio. Tricking my brain into believing I'm someone else can be very triggering; Its like hijacking the right side of my brain.
WHAT DO YOU LOVE THE MOST ABOUT GETTING DRESSED?

Taking my bra on and off.
WHAT'S YOUR FAVORITE SONG TO LISTEN TO WHILE YOU PAINT LATELY?

Low Rider - "War"
---
Get the
TRASH app
and make edits of your own. Use the code "peegirl3" to join our creator beta today.
Cargo Collective 2017 — Frogtown, Los Angele