Nneka Ibeabuchi is Doing The Absolute Most
The model and creative director speaks on style and spirituality.
---

Words by Tierney Finster
Photos by Kofi Dua

Nneka Ibeabuchi (@africanjawn) is a model and creative director from Lagos, Nigeria. She is also the creator of "Buchifiles," a new series in which she applies the styling, production design and photography skills she's cultivated as a model and style blogger to other models in Los Angeles.

Nneka tells TRASH about starting her modeling career, prioritizing simplicity and experiencing beauty while traveling.

THANK YOU FOR BEING A TRASH ANGEL. WILL YOU TELL US ABOUT A MOMENT OF CREATIVE TRANSCENDENCE THAT MADE YOU FEEL LIKE YOU "EARNED YOUR HALO?"

I started fully creating in 2014. Nobody in my family would take me to castings or open call before that. I decided to wait until I was old enough to attend these things on my own. I was a bit hesitant, but one random day, I decided to take photos with a friend of mine that owned a camera at that time but wasn't really a photographer. The photos came out great and I knew it was time to get to work as a model and creative. I earned my halo. I gained confidence.

WHAT INSPIRES YOUR APPROACH TO CREATIVE DIRECTION?

My approach and style for creative directing is simplicity. Simplicity and details. I like to play with colors. I want anybody that views my project to sense a story behind it. Something you can hang in your home as a masterpiece.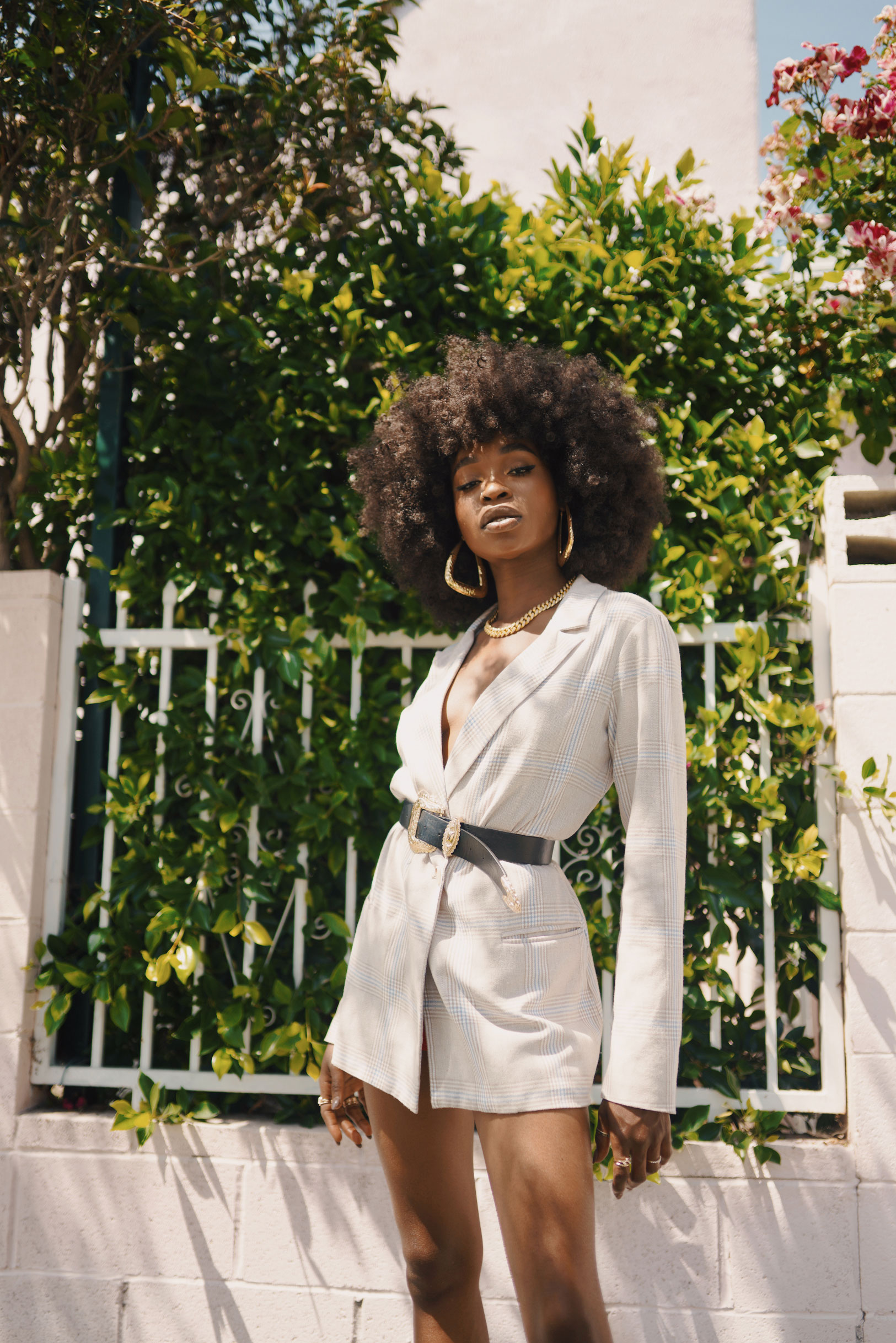 DO YOU EVER EXPERIENCE CREATIVE ANXIETY OR SELF-DOUBT? IF SO, HOW DO YOU OVERCOME IT?

Sometimes I feel like, so blanked out. I used to have a lot to creative anxiety. I overcame that by practicing remaining focused in my initial vision. Finding a quiet place to meditate on this vision of mine and figure out how to bring it to life. In the process I would have self doubts, especially when I'm blanked out. I feel like this might not be for me and that it's too much. I had to stop with the negative thoughts and fill my mind with positive thoughts. And I pray a lot. I pray that God keeps me focused on what he placed me on earth to do.

WHAT IS ONE TRICK THAT ALWAYS IMPROVES YOUR SHOOTS?

My advice for connecting with the camera is to know what you're looking for first. When you grab the camera to shoot, whether it's an iPhone or camera, you should already know what you want to capture and how you want to capture it. One tip I use whenever I'm on set is to know your angles. It makes the shoot easier for you and the photographer. Practicing in the mirror helps. Eventually you'll get used to it.


"know your angles."




WHAT DO YOUR DAYS REALLY LOOK LIKE OFF SOCIAL MEDIA?

When I'm not on social media slaying, then I'm either attending castings, chilling on the beach, reading a book, biking and thrifting. I love to bike! That's how I workout.


WHAT'S THE MOST BEAUTIFUL THING YOU'VE SEEN LATELY?

The most beautiful place I've seen lately would have to be Ghana. I fell in love with everything about Ghana, from the people to the culture. Their food, the market, they weather. Ghana is hot but it has a cool breeze to it. I didn't want to do any of the fancy stuff, I wanted to do what the locals were doing.


DO YOU HAVE ANY SPECIFIC CREATIVE DREAMS FOR THE SECOND HALF OF 2019?

I have a lot of creative dreams, but I don't share much. I'm the type to not say anything and just pop out with something dope.


WHAT'S A QUESTION YOU'D LIKE TO ASK A CREATOR?

What keeps you going?



---
Get the
TRASH app
and make edits of your own.
Cargo Collective 2017 — Frogtown, Los Angele