JAIME DIAZ BLESSES US WITH BEAUTY

"Sometimes I have to walk away for awhile after I create something before I can really see what it looked like and appreciate what I did."
---

Words by Tierney Finster
Photos by Jess Calleiro

Jaime Diaz (@jaimeedencreates) is an "image curator," makeup artist and hairstylist living in Los Angeles and working all over the world. Although Diaz never expected content creation to be such a huge part of his career in the beauty space, he's become known as a creative director capable of not only proposing signature beauty looks but also capturing them on camera. Obviously, his clients love this.

For example, the Colombian-American songstress Kali Uchis, who is as much known for her multifaceted musical style as her singular dedication to glamour. Ever since meeting on a set a set a couple years back, Diaz has been behind the scenes on collaborating on Uchis' beauty cues and snapping photos before the show.

He tells TRASH about simplifying his references, doing makeup for the camera and creating his most viral makeup look yet.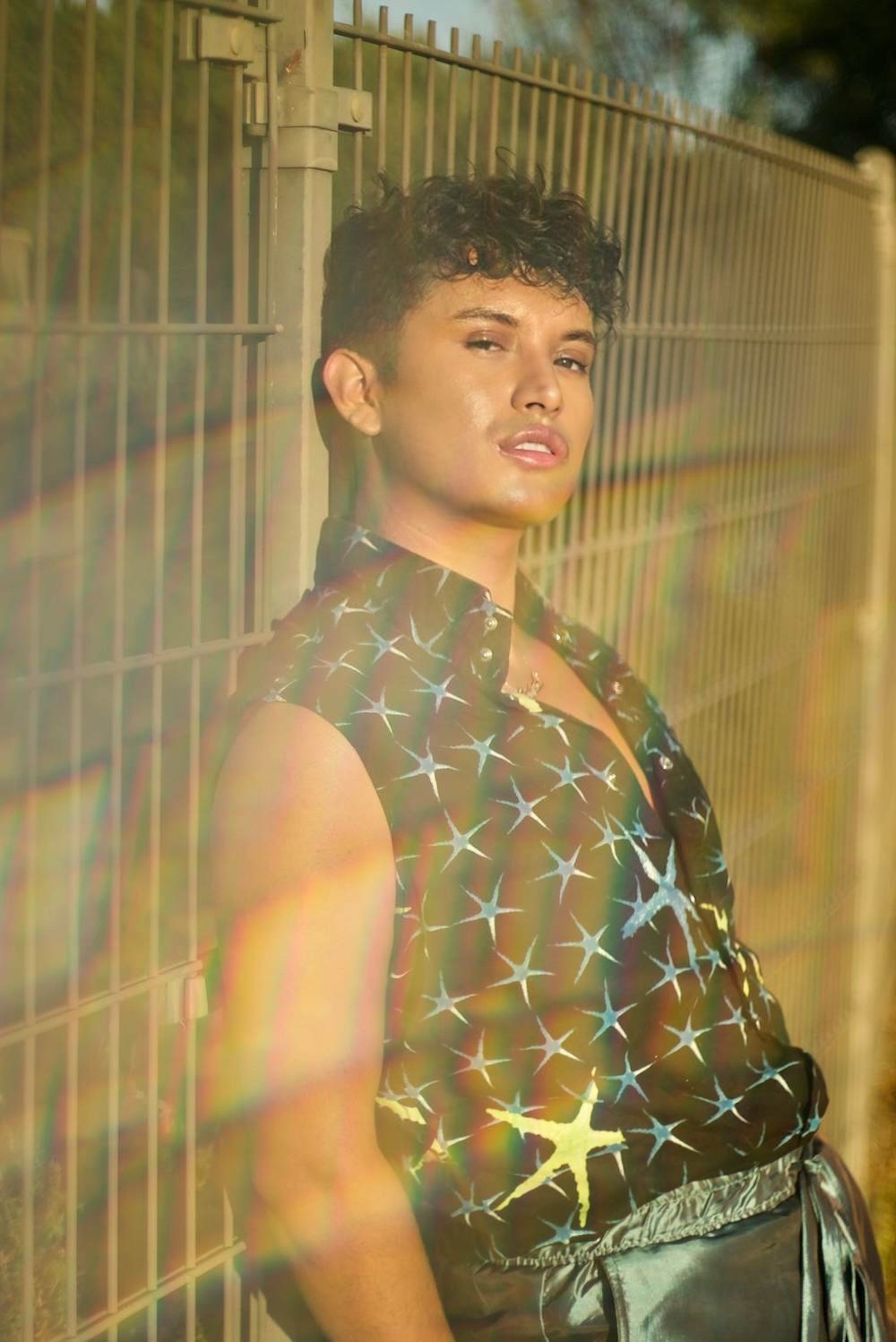 THANK YOU FOR BEING A TRASH ANGEL. WILL YOU TELL US ABOUT A MOMENT OF CREATIVE TRANSCENDENCE THAT MADE YOU FEEL LIKE YOU "EARNED YOUR HALO?"

I think the moment I earned my halo was when my work was featured in Vogue. Just because I was so aware of Vogue as a child and like, "Oh my god" about it. Then when my work started getting featured again and again and again, both makeup looks I've done and actual photos I've taken of people wearing those looks, it felt really good. Like, "Yay!"

As a creative, it feels really good to know that things I've felt were visually stimulating really translate to others.

AS A beauty professional, DID YOU ANTICIPATE HOW MUCH CONTENT CREATION YOU WOULD BE DOING FOR THE ARTISTS YOU WORK WITH?

No, I didn't. I didn't even think that was a thing really, BECAUSE I didn't see myself as a photographer. I was taking photos all the time though – I was always getting my friends ready in high school and then taking their pictures before we went out. I never thought that was going to be part of my job.

However,in the day and age of Instagram, if you don't prioritize shooting you're really not going to go anywhere. I definitely think my clients appreciate my ability to create content for them too; it becomes part of what I'm doing there. People appreciate that I have an eye for certain things, because it allows them to trust me. They get the sense that I'll be able to understand their overall style and create looks that match or enhance it.



WHAT IS ONE TRICK THAT ALWAYS IMPROVES YOUR SHOOTS?

I love people to be emotional and in motion. I don't like people to just stand still, 'cause then you're not really translating anything. I like people to feel comfortable enough to move around and feel different things so that all of that comes through in the images.
Also, always look toward the direction of the sun. The light needs to be right, especially for makeup. I don't take pictures from 12 p.m. to 3 p.m. because that's when you get all those harsh shadows. Don't take pictures in the middle of the afternoon when the sun is directly overhead.
WHAT INFORMS YOUR AESTHETIC SENSIBILITY?

Powerful women. I love the feeling of a powerful woman; there's nothing else like that in the world. I've been drawn to strong women as a source of inspiration since I was a child.
I'm also inspired by the textures of textiles. I love fabric. I love how textures catch our eye, how they make us feel and how they catch the light. I find inspiration in very simplistic things because I feel that allows more room for my own imagination
.

WHAT IS YOUR FAVORITE MAKEUP LOOK YOU'VE EVER CREATED?

I would say it's a look I did on Kali for one of her Hollywood Bowl performances this past June.
It went viral. I'm obsessed with skin and skin is the most important thing for me. It's funny 'cuz the look really translated, even more than I initially thought. Sometimes I have to walk away for awhile after I create something before I can really see what it looked like and appreciate what I did.
I created glass skin on her, creating the look with all of the lights from the Hollywood Bowl in mind. I heard someone describe it as "a Barbie before you open the box" and I loved that. That's exactly what I wanted – to create skin that is almost unreal.
DO YOU PRACTICE CERTAIN LOOKS A LOT BEFOREHAND?

I love to practice on people without the pressure to get things done, which is inherent in any job, but most of the time I just get to my client and whip stuff out. In terms of skin, I've been practicing creating super flawless skin that doesn't look like you're wearing anything on myself since high school. Mostly on myself. The thing is, I never even knew I could do makeup until I was in cosmetology school for hair. I would just do it on my own face, but then I'd come into beauty school and everyone would love it. Eventually my teacher told me, "You need to do makeup."
WHAT IS YOUR DREAM LOOK TO CREATE ON SOMEONE?

I would love to make Kris Jenner one of my plastic dolls, similar to the look I described above. She's such a powerful person, mostly because of her divine feminine energy. Not power because of her wealth or status but power in terms of how she has this palpable energy.
WHAT IS THE MOST UNCONVENTIONAL SOURCE YOU'VE EVER DRAWN MAKEUP INSPIRATION FROM?

Yeah, I went to a strip club for the first time this year. First, I went to The Body Shop on Sunset, and it was ok, but then a couple days later I went to one in the Valley called V.I.P. and I was very inspired. It was good. I was so obsessed and inspired, especially by the way the light was watching them while on stage. It was a slow night, so all the dancers were filming one another and literally just doing it for the gram. I was so inspired by the way the light reflected on them and its effect on the skin and body, as well as the colors and textures of the space.
WHAT'S THE MOST UNCOVENTIONAL PLACE YOU'VE EVER GOTTEN SOME READY?

One time I was on tour with Kali, opening on the Lana Del Rey tour. We had one day off and flew from wherever we were at to the Dominican Republic to film a video with Tyler the Creator. I had to get her ready in the car going from the airport to set, and she had to start shooting as soon as we got there. I had like ten minutes to do her hair. I had to fake it. I did the top and then just kind of fixed that over the rest of her hair. The video was for
Will you summarize your summer in a trash video?
WHAT ADVICE DO YOU HAVE FOR PEOPLE WHO ARE JUST BEGINNING TO DO PROFESSIONAL MAKEUP FOR CAMERA?

Do the makeup under a nice, white light. I bring a portable light in my kit with me, because you never know what the lighting situation is going to be on set. Sometimes it can be very dark, or with less than ideal light. I actually love it when we have to do makeup outside because the sun is the best light.
Also, when you're doing makeup for camera, you have to be very strategic about where you place your mattes versus where you place your highlights. If you get even just a little bit of highlight onto your matte, you'll be able to see it because everything is so high-definition. Get a clean, puffy brush and blend everything out. Otherwise your tiny little mistakes will show. You can not know how to do makeup, but if you blend well, it will look good.
WHAT THREE PRODUCTS ARE MOST CRUCIAL TO YOUR KIT?

Toner, moisturizer and highlight. I like liquid and powder highlights and I'll use both at once sometimes. A lot of people don't like the word "moist," but that's how I love everything to look.
We're still in this dewy era right now, but I think as nineties supermodel makeup increasingly trends, things may swing back to more matte soon. None of these techniques are new though, so I think they can both be in style at once. For example, Marilyn Monroe wore highlight all over her face. Her makeup artist Whitey Snyder was amazing; he was that bitch of his era.
HOW DOES IT FEEL WHEN PEOPLE CREATE THE MAKEUP LOOKS YOU DO ON CLIENTS LIKE KALI UCHIS?

It feels warm inside. It's nice how people recognize all the detail I've put into a look and all the steps I've taken to create it, and then channel that same effort into recreating it on themselves.
The look that gets recreated the most frequently is this baby blue eye with a crease and bottom lashes.
To get that tone of blue, I put white on the lids and then just a little bit of baby blue on the lids. It makes the blue really pop and it makes the look kind of mod too; it's like using primer in that the white makes the blue look better. I love using this Anastasia lipstick palette that has every primary color and white. I'll just grab the white and layer it under the shadow.
Playing with the color wheel is a very important part of what I do. It's my whole job, especially when working on people's skin and playing with all those different undertones.
WHAT COLOR STORY ARE YOU LOVING TO TELL RIGHT NOW?

I've been liking dusty gray with baby blue on the eyes and baby pink on the lips.
IF YOU DIED AND CAME BACK TO LIFE AS A BEAUTY PRODUCT, WHAT WOULD IT BE AND WHY?

I would be a three-in-one product that is a skincare product that also works as a glowing primer. It would also work as a makeup topper to make your highlight look more natural and skin-like.
IF YOU COULD SELECT ANY CREATIVE MENTOR TO HAVE, WHO WOULD IT BE AND WHY?

Hmmm, who am I summonsing? I would say Pat McGrath. I just love the style of her makeup. It's effortless and to the point. It's so glam and so thought out but also so simple. She's a legend.
how do you like to spend YOUR DAYS OFF?

Ideally, I go to a certain part of Malibu by the Getty Villa and just smoke a joint by the ocean. I'm actually off today, but I'm going to go home and do my mom's hair.
WHAT'S A QUESTION YOU' LIKE TO ASK ANOTHER CREATOR?
What inspires you to keep creating?
---
Get the
TRASH app
and make edits of your own.
Cargo Collective 2017 — Frogtown, Los Angele