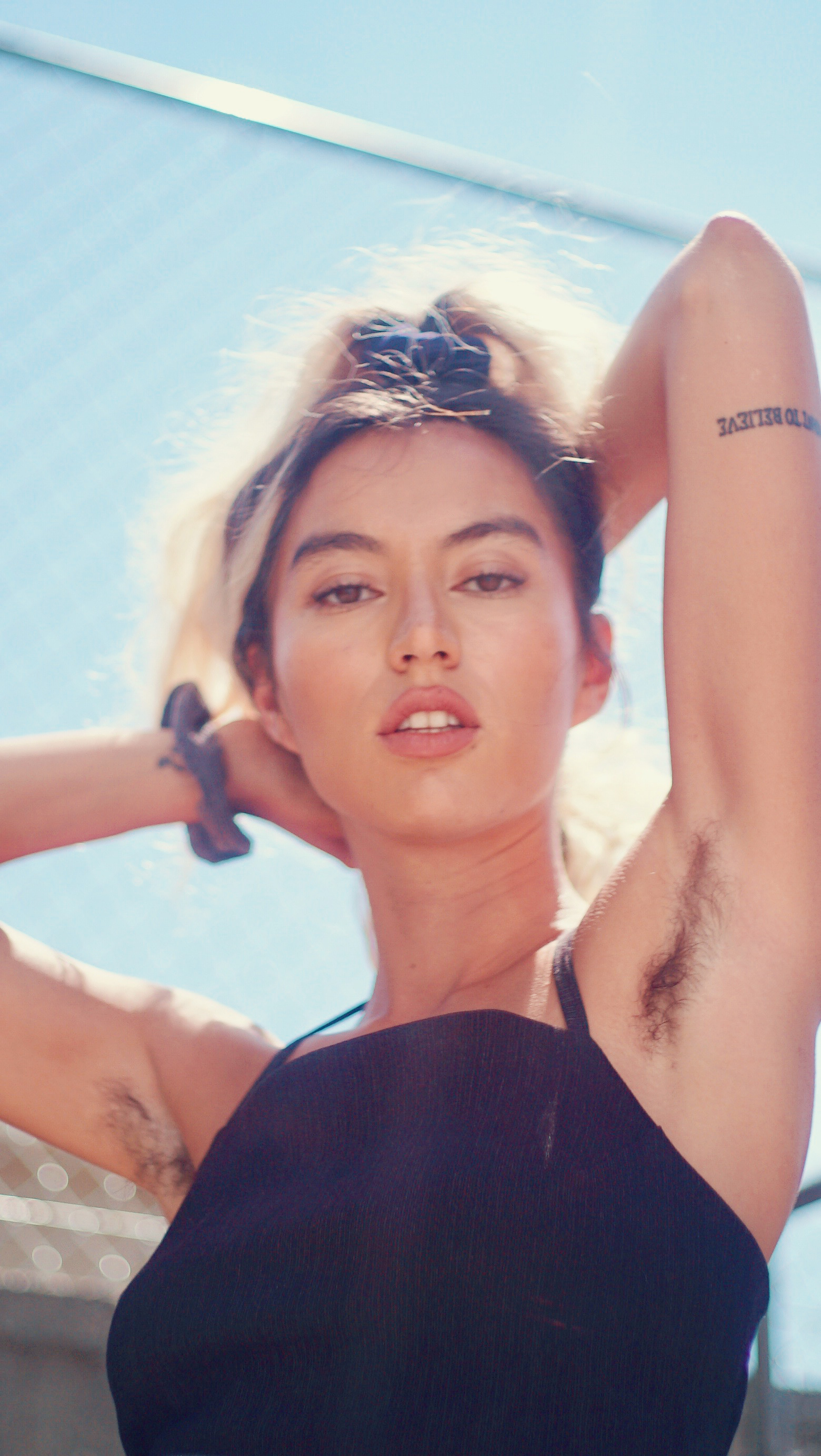 Aaliyah Ei Is A Model With A Mission

The New York native on what makes a good model, songs that get them dancing and reverence for plant medicine.
---

Words by Tierney Finster
Photos by Jess Calleiro

Aaliyah Ei (@thelittlebeast) calls themselves an "uptown sqrrl" from Harlem. They moved to Los Angeles three years ago because the universe was pushing them towards pursuing an acting career and becoming a cannabis advocate. If you go to Sephora as much as I do, you may recognize them from their recent Urban Decay Cosmetics campaign, promoting their skin tone-inclusive line of foundation. Aaliyah has also modeled for Playboy, Coach, ASOS and Adidas, among others.

Aaliyah loves building community online around intersectional feminism, body positivity and cannabis. As the legal cannabis industry expands across the country, Ei is determined to lead conversations around racial equity in the cannabis space, including restorative justice for the formerly incarcerated, as well as the ways cannabis can be used as a health and wellness tool.

On a particularly hot day in Los Angeles, I find Aaliyah relaxing in their eclectic bedroom full of dozens of plants and tons of pairs of shoes.

They tell TRASH about how they became "The Little Beast," what makes a good model and why their cannabis activism is about way more than the pleasures of getting high.


WHAT INSPIRES YOUR AESTHETIC SENSIBILITY?

Aliens, drag queens, the lady Gremlin, club kids, my own afromexican culture.

WHAT WAS YOUR FAVORITE MUSIC VIDEO AS A KID?

Busta Rhymes, "Gimme Some Mo" or Missy Elliott, "I Can't Stand the Rain."

WHAT MOVIE OR TV SHOW DO YOU WANT TO STAR IN THE REMAKE OF?

I would die to be Buffy, the Vampire Slayer. I will also be in a superhero movie one day. Maybe as Silver Banshee or something.

who is the creative mentor of your dreams?

Rihanna 1000%.

WHAT ARE FIVE SONGS that are sure to get you dancing lately?

Lizzo - "Truth Hurts"

Megan Thee Stallion - "Simon Says"

Colonel Abram - "I'm Not Gonna Let"

Doja Cat - "Juicy"

Patrice Rushen - "To Each His Own"


WHAT DO YOU THINK MAKES YOU A GOOD MODEL?

A good model uses their career and platform for a bigger purpose. I love that at every shoot I can be a different character but use my broader real personality to play and expand on how I shoot. Modeling is an incredibly hard craft. It requires intense stamina, patience, mental and physical flexibility.
WHAT JOBS HAVE BEEN YOUR ABSOLUTE FAVORITE?
My favorite jobs so far have been my most recent new acting experiences! I starred in my first short film, "The Deadly Dames," directed by Dallas Hunter. It's an ode to Faster, Pussycat! Kill! Kill! It just got accepted into the Berlin Commercial Film Festival. I've done a couple of cannabis commercials that are really fun too.
YOUR TRASH AND IG USERNAMES ARE BOTH "THELITTLEBEAST." WHY IS THAT YOUR MONIKER?


"My little beast, my eyes, my favorite stolen egg. Listen. To live is to be marked. To live is to change, to acquire the words of a story, and that is the only celebration we mortals really know. In perfect stillness, frankly, I've only found sorrow," is a quote from the novel The Poisonwood Bible.
Something about the illusion of perfection and the ultimate sorrow we carry in life as our individual stories play out really resonated with me as a teenager. I always saw myself as a wild animal under the pressure to be successful, "the favorite."
why is body positivity important to you?

Body positivity means that all bodies are valid and beautiful! Practicing real inclusion and stamping out racism, ableism, fat shaming and the like.
HOW HAS CULTIVATING A DIGITAL COMMUNITY CHANGED YOUR LIFE?

It's definitely given me a more global platform to spread the word of my lord and savior cannabis! Honestly, I sold weed on the side in New York to supplement my meager earnings from modeling. Then I started researching its medical applications and ability to help cancer patients when my mum fell sick. That's what really catalyzed my journey in working in cannabis science, equity and legal advocacy. The plant has flipped and dipped my whole life for the better. Just about every inch of my life is now saturated in cannabis.
WHAT INSPIRED YOU TO CREATE YOUR ZINE "MAMA MARIJUANA?"

My zine is a 101 on the basics of cannabis and equity in cannabis wrapped up in a little visual treat. Initially, it was just for a small private event but it was so well received I made them available for purchase. It's important to me to be an advocate in cannabis because there is still so much to be explored as far it's medical application. Legal advocacy is imperative too because there are many black and brown people still serving time and being adversely affected by the war on drugs, while white cannabis CEOs prosper.
will YOU SUMMARIZE YOUR SUMMER IN A TRASH VIDEO?

IF YOU died CAME BACK TO LIFE AS A PAIR OF SHOES, WHAT WOULD THEY BE?

Definitely a pair of calf-high Frye Moto boots.
WHAT'S ONE CREATIVE SKILL YOU'D LOVE TO LEARN?

I really want to learn more stunt work like driving and stunts on motorcycles.
WHAT'S A QUESTION YOU'D LIKE TO ASK ANOTHER CREATOR?

What does it all mean?
---
Get the
TRASH app
and make edits of your own.
Cargo Collective 2017 — Frogtown, Los Angele